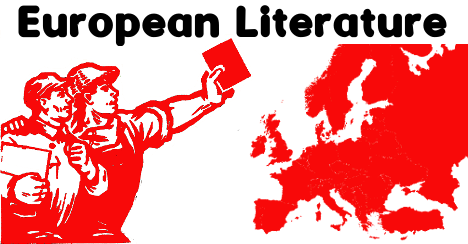 Czech/Slovakia
Jaroslav Hašek: Satirist who was a prolific writer of short, satirical sketches, as well as a long, satirical novel which was his most famous work: The Good Soldier Švejk. Started his career as an anarchist in Prague under Austro-Hungarian rule, eventually joined the Soviet Red Army, and died a communist in Prague after a short, but event-filled life.

Egon Erwin Kisch: Journalist and writer who was converted to communism by the useless bloodbath of WWI. Worked in journalism after the war in Austria and Germany. After the ascension to power of the Nazis he was arrested and then expelled from the country (luckily for him he was a Czechoslovak citizen!). Traveled around the world to raise awareness of the barbarity of the Nazis, he lived in Australia, France, Spain, and amerika. After WWII he returned to Prague and worked as a journalist for two years before his untimely death.

Ivan Olbracht: Communist writer who wrote for Social Democratic newspapers in Vienna and Prague in the years before the October revolution. He later wrote for The Red Right, the official newspaper of the CPC, and wrote many works of fiction as well. Was imprisoned in 1926 and 1928 for his communist positions. During WWII, fearing for his safety (his mother was Jewish), he retreated to the small town of Stříbrec, where he eventually became involved with the Communist resistance.

Jiří Weil: Communist writer, he was the first to translate Mayakovsky to Czech and from 1933 to 1935 lived in the Soviet Union as a translator for the Comintern. In the later half of the 1930's he was expelled from the Communist Party for his opposition to stalinism. A Jew, he was called up for the "transports" in 1942 after living several years under the brutal Nazi occupation. Refusing to go to his death without resistance, he faked a suicide and spent the rest of the war living clandestinely in apartments and other lodgings his acquaintances could help him find. Stayed in Czechoslovakia after the war. A radical writer, the spirit of resistance permeates his works.


France
Louise Michel: A participant in the Paris Commune, she was one of the few "militants" who survived the mass executions which followed the repression of the Paris Commune. Was forcibly deported to the French colony of New Caledonia for more than six years. She continued to be politically involved in progressive struggles until her death. She wrote a book of memoirs about her life of struggle and sacrifice.


Germany
Heinrich Böll: A leftist-catholic writer and pacifist, he refused to join the Hitler Youth, and was in opposition to Nazism. After the war he became known for his critiques of the Catholic Church and the right-wing German media. Prolific writer of novels and short stories, dealing with social, political, and moral issues.

Bertolt Brecht: Famous playwright, poet, and short story writer. Joined the communist party in 1926, he wrote most of his works in Weimar Germany and later in exile from Nazi Germany. A passionate advocate for a better world, and an innovator in the world of progressive theater.

Ulrike Meinhof: Marxist writer who became a well-known figure on the German left in part due to her articles in the leftist newspaper konkret. Originally a new-left type, in 1970, like many other leftists in western countries at the time she turned to "urban guerrillism." Becoming one of the most prominent members of the Red Army Faction she was arrested in 1972 and found "hung" in her cell in 1976.


Greece
Eleni Fourtouni: Poet and writer who focused on the role of women in the Greek left.


Italy
Dario Fo and Franca Rame: Leftist playwrights and actors from Milan. Worked for years together taking progressive plays of their creation to workers' clubs and popular theaters around Italy. Their plays are known for taking on serious topics with humor and intelligence.

Antonio Gramsci: One of the founders of the Italian Communist Party and revolutionary writer from Sardinia. Was active on the left before fascism, and as a communist he was imprisoned for years under fascist rule. He wrote extensively in communist newspapers before his time in prison, where he wrote his famous prison notebooks. Died shortly after he was released from prison.

Giovanni Verga: Sicilian novelist who wrote his famous works in the late 1800s and early 1900s. Most of his writings deal with his native island and it's people, portraying them with realism and with a special focus on the downtrodden.


Russia
Maxim Gorky: Novelist and playwright, he grew up in poverty. In his youth Gorky traveled around Russia on foot and took on many short-term odd jobs to support himself. During and after his wanderings he began writing for provincial newspapers as well as preparing more substantial works. A master of short stories, novels, plays, and articles, his works focused on social questions and he was an open partisan of the downtrodden. Considered to be the founder of Socialist Realism, by the turn of the century he was an open supporter of the Russian Social Democratic Party: he was considered the writer of the Russian Marxists. Gorky was and will remain one of the greatest socialist novelists ever to pick up a pen, with an unrivaled ability in writing about the oppressed: sympathetically, realistically, and with the spirit of revolution.

Victor Serge: Child of Russian exiles, he grew up in Belgium and France. After the Russian Revolution he made his way to the Soviet Union in 1919. He held various positions in the new government, including in the Comintern. Sided with Trotsky and the opposition to Stalin and was repeatedly jailed until he was exiled from the Soviet Union in 1936. Remained a principled communist till his death in exile in Mexico in 1947. Wrote many novels on the Russian Revolution in addition to his Memoirs and other books on the history of the Russian Revolution.


Spain
Fernando Claudín: Writer who joined the Spanish Communist Party in the early thirties and actively participated in the Spanish Revolution. Went into exile after the victory of fascism in Spain in 1939 and remained a prominent member of the Spanish Communist Party until 1964. Expelled from the party for criticizing its rigid stalinism.