(1891-1937)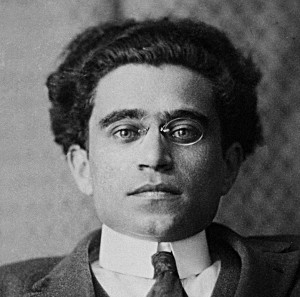 Italian Marxist theorist and writer. One of the founders of the Italian Communist Party he was originally from Sardinia. Was active on the left before fascism, and as a communist he was imprisoned for years under fascist rule. He wrote extensively in communist newspapers before his time in prison, where he wrote his famous prison notebooks. Died shortly after he was released from prison.



Antonio Gramsci: Life of a Revolutionary by Giuseppe Fiori: 296 pages. The definitive biography of Gramsci, very useful for understanding his background and the influences on his work, as well as to see the progression of his life as a communist revolutionary. Written by Sardinian leftist writer Giuseppe Fiori.


Articles:

Socialists and Education: Men or Machines?

Oppressed and Oppressors: written by Antonio Gramsci at the age of 19/20 (i.e. in 1911) at his secondary school in Cagliari, Sardinia.

Remembering the History of the Cotton Workers Struggle: about the struggles of textile workers in and around Turin.